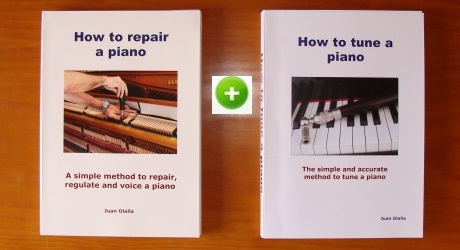 Tune pianos like the pros do and learn the "tricks of the trade". These two books teach you in an easy and simple way all you need to know to tune pianos aurally, also to regulate, voicing and repair the vast majority of faults you can encounter on a piano.
Most people think than repairing and tuning a piano is a very difficult task, a job that can only to be carried out by people of the trade. The reality is quite different, providing that you follow the right teaching method, you can learn to tune and repair pianos in a relatively short period of time. Buy these two books now and learn in no time to efficiently tune and repair your own piano.
Learn to tune and repair pianos like a pro

"How to repair a piano"



$29,95 USD


"How to tune a piano"



$29,95 USD


132 pages divided into 7 chapters covering the main issues

Step by step simple instructions excluding unnecesary theory
More than 140 photographs and helpful diagrams
Numerous photographs, charts and helpful diagrams
Numerous tips, shortcuts and personal first hand advices
Mp3 sample of the "beats" will show you easily how to build the temperament
Full dedicated chapters covering areas as Regulation and Voicing
Dedicated chapters covering tuning hammer technique exercises
A check-list for quick reference with the piano most common failure
Plenty of tips, shortcuts and first hand personal advices
(More about this book....)
(More about this book....)
Buy the two eBooks Now and save a 15% - Instant download!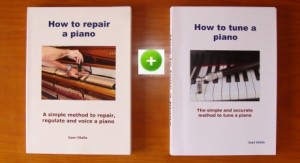 $50,92 USD

"How to tune a piano" free download (extract) please click here
"How to repair a piano" free download (extract) please click here

About these eBooks
The author of these works knows from personal experience the difficulties that someone with the desire to learn can find. I never have liked the secrecy that has always surrounded this trade, and the little inclination that piano tuners in general have to share their knowledge. These eBooks represent a new approach, a simple and fast, step by step method.
Can I tune and my own piano? Yes, you can. There are many people who for a variety of reasons want to learn piano tuning and repairing, but the complications of ordinary methods, make the task little less than impossible. It's a fact that most malfunctions on the piano are easier to mend than they look at first sight. Good observation skills and a good dose of patience backed with a minimun theoretical knowledge is about all you need. These digital books are designed to learn how to tune and repair pianos the quickest and easiest possible way. You learn step by step as if you have a teacher next, focussing only on the elements really important. The experience of three decades tuning and servicing pianos squeezed into two simple and practical methods.
 What is the price of the books and how can I buy them
The price of each book is $29.95 USD, and if you buy the two books $50.92 USD (15% discount). Clicking on "buy now" you will be redirected to PayPal where you will be able to pay safely by credit card or bank transfer. Once the payment has been accepted, you will recieve an email with a link to download the book. The whole process doesn't take more than a few minutes.
Is it safe to pay transactions online by PayPal?
It is completely safe. PayPal is the company leader for payments online, having more than 250 millions clients. The data in your credit card are encrypted and the seller does not keep any information from it. Buy with confidence.
Something about the author of this books
The author of this book is a professional piano technician with over 30 years experience. Having work most of his professional career in England and Spain, nowadays Juan shares his time between his job as a piano technician and teaching of piano technology.
Can I really learn to tune and repair pianos with these books?
Yes, nowadays two thirds of the people who learn to tune and repair pianos, they do it by their own means. A piano tuning method like "How to tune a piano" and "How to repair a piano"  makes the whole process of learning, simple and easy, not fuss, straight to the point. With this book, any adult person with some basic musical concepts, can learn to professionally tune and repair pianos in a relatively short period of time.
What makes special these books 
Is the inclusion of audio visual material. The student not only reads, but also listens and learns by the mp3 files inserted in the book. This way you will soon be able to accurately identify and judge the pulses and beat rates needed to tune a piano.
Can I print these books ?
Yes, once you've downloaded the book and saved it in your computer, you can print it in order to have a copy for your personal use.
Any questions? Please, post us a comment.