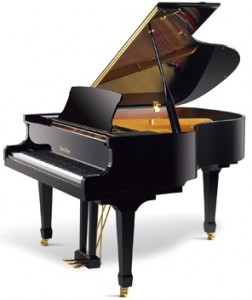 Due to proven easy and fast piano tuning methods like "How to tune a piano" nowadays increasingly more people tune their own piano. The benefits for doing so are well clear. Read the following 5 powerful reasons.
1  Money!
Just imagine the amount of money that you will save over the years if you tune and service your own piano. For the price of a single piano tuning, you can buy a piano tuning method like "How to tune a piano" and also a reasonably good quality tuning lever with mutes, that's all you need to start tuning your own piano, and will probably be the last money you spend in piano tunings.
2  Have your piano always in tune
Although the first reason for tuning your own piano, Money! seems pretty convincing, the number one benefit that you will get from learning to tune your own piano is having the piano always perfectly tuned. Have your tuning lever at hand and keep your piano always in shape by touching up the tuning between professional visits, or if so you wish, tune the entire keyboard right from scratch.
3  Understand and appreciate your instrument
For most people, the way a piano works is a total mystery,  even professional players or teachers don't have a clear idea of how the piano works. Knowing and understanding the mechanical aspects of your instrument and been able to tune it and service it, will greatly increase your understanding and appreciation of the instrument and will enhance your skills as a piano player.
4  Get respect and admiration by friends and other fellow musicians
People in general regard piano tuning as a very rare ability only within the capabilities of a gifted few. The reality is well different, piano tuning is not even a music skill, but a mechanical one within the reach of most people. If you can tune your piano you will be no doubt admired by friends and other fellow musicians who will certainly regard you as "smart".  
5  Tune not only your piano but also other people pianos.
I can assure you, as soon as people (friends, neighbours, etc.) know that you can tune pianos, in no time they will start calling you (that is the way I started my business many years ago). Of course, you can and should charge for your work, so you could convert your hobby in a part time profitable activity that you could combine with your job or studies.
Copyright © Juan Olalla 2011
Has this post been helpful to you? Do you have any question? You are welcome to leave a reply, your opinion and/or suggestions are highly appreciated. Thanks