I don't consider myself a compulsive reader but every now and then I find the time to relax and read, even if it is only for a few minutes. Sometime ago while visiting a book-shop at my home town I found a book that catch my eye "The piano tuner" by Daniel Mason. Out of curiosity I bought it.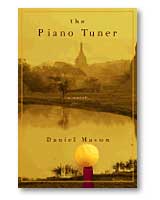 The story takes place  in Victorian England and is about a piano tuner living in  London that went to "do a job" to Birmania, in those days under the British Empire (I figure out, at that time probably was quite difficult to find a local piano tuner). The man had to leave his new wife and his peaceful existence in London to undergo an adventure that changed his live and indeed ended it.
 What surprised me about the book, apart from the good written story was the excellent documentation. The author describes the job of a piano tuner in quite a convincing manner describing things like the tools for tuning a piano, changing and replacing broken strings, the technique of tuning a piano, the terrible effect that the humid weather and the rain forest had on the piano and so on.
I also found quite interesting the reference to Erard pianos as that was the piano he had to mend. Erard pianos for those of you who don't know was one of the biggest and most prestigious piano brands, mainly because they were the ones that invented and pioneer the repetion lever (the repetion lever has been one of the most important innovations in the history of piano building and at the time considered as a major breakthrough). I have tuned a handful of Erard pianos and found them very refined with a very pleasent and precise action Nowadays the modern piano is not too different from the one describe in "The piano tuner"
Looking the credits at the end of the book I found where Mr Mason got most of his  documentary material from. The book  "Piano tuning and allied arts"  by William Braid White. Incidentally that was the first piano tuning book I ever had, edition 1946 and although quite old and batter I still keep it. 
"The piano tuner"  by Daniel Mason  is highly recommended.  Quite interesting and pleasent to read, but just in case anybody had a job for tuning a piano in Birmania and think of me as a suitable candidate, please look in another direction, I am busy.
©  copyright Juan Olalla 2010
Has this article been helpful to you? Got some questions? Please leave a reply, your opinion and/or suggestions are highly appreciated. Thanks